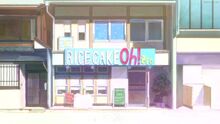 Ricecake Oh! Zee (previously named Ōji-ya) is one of the stores featured in Tamako Market's Usagiyama Shopping District. It is managed by Gohei Ōji, his wife Michiko, and their son Mochizō. It is located in Usagiyama Shopping District, and is located across from their rival mochi shop Tama-ya. It is known to be more modern with their taste in advertising, in their title and English-titled products.
Their known products are heart-shaped mochi (noted to be strikingly similar to the ones sold at Tama-ya),[1] and Forever Love You Mochi.[2]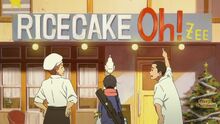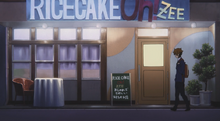 References
Edit
↑ Tamako Market anime, Episode 2.
↑ Tamako Love Story film, 2014.
Ad blocker interference detected!
Wikia is a free-to-use site that makes money from advertising. We have a modified experience for viewers using ad blockers

Wikia is not accessible if you've made further modifications. Remove the custom ad blocker rule(s) and the page will load as expected.