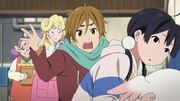 Whilst shopping for some flowers in her local market, Tamako Kitashirakawa, the daughter of a mochi shop owner, encounters a peculiar talking bird named Dela Mochimazzi that decides to follow her home. As Tamako and her younger sister Anko go to the public baths later that evening, Dela has Tamako's childhood friend, Mochizō Ōji, take him to the baths as well. As New Year's Eve arrives, with Dela having put on weight after gaining an affection for mochi, Dela almost chokes on a mochi, prompting the neighbourhood to help him out, overlooking Tamako's birthday.
Subcategories
This category has only the following subcategory.
Pages in category "Episode 1"
This category contains only the following page.
Ad blocker interference detected!
Wikia is a free-to-use site that makes money from advertising. We have a modified experience for viewers using ad blockers

Wikia is not accessible if you've made further modifications. Remove the custom ad blocker rule(s) and the page will load as expected.